Some Posters: a NGV survey of modernist posters
AUTHOR: Desktop

Published: April 7, 2016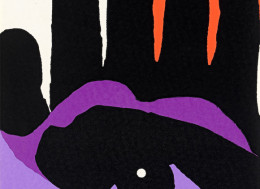 The National Gallery of Victoria (NGV) will launch its first publication of this kind titled Some Posters from the NGV at the Melbourne Art Book Fair this year. 

The large-format, hand-numbered publication is a survey of NGV's significant archive modernist posters from 1963 to 1985. As well as a marvellous showcase of some of the gallery's most iconic and controversial exhibitions, including Rodin sculpture retrospective and Scandinavian design in the 60s, the book charts interesting developments in graphic design.
These include: the European-inspired text and illustration-based posters of the 60s; the development of artworks themselves appearing on posters to 'sell' exhibitions in the 70s, which parallels the growing commodification of art at this time; and the glossy, corporatised poster of the 80s replete with logos and sponsorship acknowledgements.
Edited by Megan Patty, NGV's senior publications coordinator, and award-winning book designer Stuart Geddes, Some Posters from the NGV is both an art object and an exploration of the exhibition poster, and will be available for $69.95.
Patty, Geddes and UK-based independent graphic designer and director of the artist-run gallery Eastside Projects James Langdon will speak in conversation about the project at the launch on 30 April. Visitors can also enjoy special access to the NGV's Shaw Research Library to view a selection of posters from the Gallery's archive at twice-daily events on 30 April and 1 May.
This year, over twenty publications will be launched at the Melbourne Art Book Fair including a co-publication by Melbourne based imprints Telephone Publishing and Surpllus who will reissue the seminal magazine Lockjaw (1983), a multi-layered part book, part magazine, which arose from Sydney's early-1980s postmodern philosophy and art scenes. New Zealand-based publisher Ilam Press will launch Head Full of Snakes: Issue Four, a motorcycle magazine that also explores crossovers between motorcycling and art, design and music.
Featuring some of the world's most creative emerging and established publishers, artists and writers, the 2016 Melbourne Art Book Fair includes a dynamic program of free talks, book launches and performances over three days from 29 April to Sunday 1 May.
---
See here for Melbourne Art Book Fair's full line-up.