Sustain platform receives clever, thoughtful identity
AUTHOR: Desktop

Published: November 20, 2014
Some of the most visually engaging work to emerge from studios these days appear to be for festivals. And it's not just design festivals, either — music festivals, cycling festivals, internet, film, culture, literature, sound and conferences (all links to festival branding stories just within the last 12 months!) have all invested in brilliant identity and branding, and perhaps due to the short-lived nature of the event, seem to be willing to take some visual risks.
This time, Netherlands-based graphic designer Filimonas Triantafyllou has created an identity for Sustain — an academic platform that hosts discussions between different universities in Europe and Asia about their research into sustainability issues. The flexible, yet simple identity has been constructed using a host of type-icons — clever graphic word-plays that feature centrally on each piece of communication, accompanied by either a single colour, bold backdrop, or a stencil/silhouette of an environmental texture or material.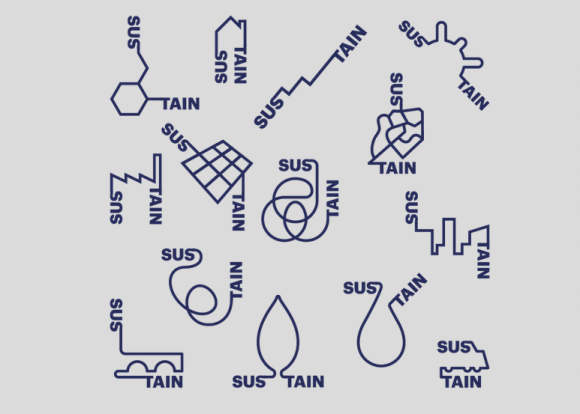 Held together by two elements only, Filimonas has taken the idea of sustainability and applied it to his design thinking, creating a concept that is malleable and widely applicable, but endlessly customisable, yet streamlined enough to never be over the top. Each icon reduces rather complex ideas, like "sustainable urban energy planning" and "urban transitions management" into a simple, distilled graphic, doing away with frivolity, but retaining a sense of friendliness, and exciting innovation.
—
All images: Filimonas Triantafyllou
See more of the Sustain roll-out at www.filimonastriantafyllou.com