The Typographic Circle publish with Pentagram for the tenth time
AUTHOR: Lucy Waddington

Published: August 27, 2014
Composed by members of The Typographic Circle, Circular is the published product of a non-profit and all-volunteer organisation that welcomes anybody with an interest in typography. Released annually with a different visual approach, Circular 18 is the latest issue designed by Pentagram's Domenic Lippa and Jeremy Kunze – marking the tenth issue to be designed by Lippa's team. Titled 'Words & Images', the layout is almost entirely typographic.
Known for its diverse monthly talks held by influential industry figures, The Typographic Circle celebrates many different voices.  With names like Ken Garland, Trevor Beattie, Stefan Sagmeister and Sir John Hegarty on the retrospective list of speakers, the podium has certainly been showered with stardust on more than one occasion. To accentuate the interviews, Lippa encouraged his team to explore predominantly typographic solutions as he notes that, "I've always thought typography can have the ability to engage and surprise us, which is what we have tried to do in this issue."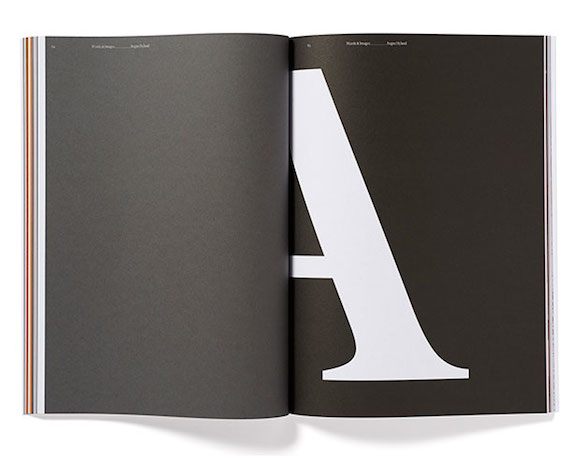 The cover of Circular 18 is clear foil and features blind embossing. Lippa explains that, "Although a magazine, Circular is a unique publication as it carries no advertising and therefore doesn't need to behave like a normal publication." He continues to say, "We are also very conscious that this is going to designers and typographers who can be the most demanding of audiences. With this in mind, we kept main text to a consistent structure and then (hopefully) surprised our readers with changes of pace and size of type to some of the quotes. This creates a tension throughout the magazine."
To feature both long and short interviews, conducted by Lippa himself and other committee members including current chairperson Alan Dye of NB Studio, Louise Sloper and Val Kildea, type is set in Regular by A2-Type and Perpetua by Eric Gill – appearing in only two colours. All imagery is contained in the back section of the publication, with only the '& Images' section devoted to the work of interviewees. With the support of G.F Smith, each issue is delivered in a limited edition envelope that has been produced in varying colours and feature segments of select quotes.
—