iStock Illustration Trends 2014
AUTHOR: Desktop

Published: October 1, 2014
Illustrations have always been an important part of a designer's toolkit. Even the most minimal of layouts is likely to feature buttons and icons that were created with a vector illustration application. The endless adaptability of illustrations continue to make them prime choices for backgrounds, hero images, textures and overlays, navigation elements, banners, and decorations.
So, the prevalence of illustrations as the designer's building material hasn't changed. What is changing is how they look and what they're increasingly being used for.
Here are some of the recent trends we've kept our eye on:
Hand drawn typography
The hand-doodled look is not a new trend, but it definitely looks to stay strong for the next while… Especially when applied to typography. Designers continue to explore the textures of chalk, paint, pen and ink, sketchy lines and brushstrokes on paper backgrounds, blackboards, cardboard, and even cut out of paper. These illustrative techniques inject a playful human element into more traditional, computer generated fonts and typefaces.
Vintage illustration styles
While typical vector illustrations of cartoon characters and the Kawaii style remain popular, they aren't the only trending styles out there. More and more we see illustrators emulating different vintage art techniques such as etching, engraving, scratchboard, silk screening, 1980s inspired pixel art, tattoo iconography, usually featuring a retro typeface to compliment the layout. Vintage illustration techniques put a unique stamp on a design.
Watercolour textures
Textures are a clever and easy way to add depth and character to any design. One of the latest textures catching the attention of designers is the use of watercolor paint washes (both raster and vectorized). Simple splatters and splashes can be used as design elements, while full washed backgrounds add a hand crafted feel.
Infographics
Infographics have been popping up all over the place for several years now. They're the perfect way to present large amounts of data in a visually interesting and creative way. While infographics can be presented in virtually any illustrative style, we're currently seeing 'flat design' and folded/stacked paper elements take off.
Paper effects
From origami folds to stacked paper cutouts, folded and layered paper effects are being seen on everything from website banners to infographics. Subtle shading effects add depth and dimension to otherwise flat objects in an illustration.
Abstract geometric backgrounds
Abstract backgrounds have always been widely used by designers. But we're seeing a shift away from previously popular backgrounds such as abstract tech, arrows and grunge splatters. Designers are increasingly choosing geometric inspired backgrounds and patterns, often in a retro inspired color palette.
Icon trends: Lightweight, folded and flat
Flat, graphically simplified icon designs are all the rage right now. While there are many styles in demand, we'd like to look at three in particular: Super thin line weight icon sets, folded looking objects and 'Flat designs' with a diagonal shadow cast below each icon. The trend away from super shiny reflective 'Aqua' interface icons has been happening over the past several years, with designers moving towards flatter, more graphically simplified icons. The launch of iOS7 and a general increase in the screen resolution of mobile devices caused an explosion of super thin line weight designs.
Faceted effects
Breaking down objects into geometric polygons is all the rage. We're seeing everything from portraits to alphabets shattered into triangular shapes, often in eye poppingly bright color variations. It's a contemporary take on more traditional representational illustrations. There are a myriad of online plugins out there to help you get the look, just try searching for 'triangulation' or 'pixellation'.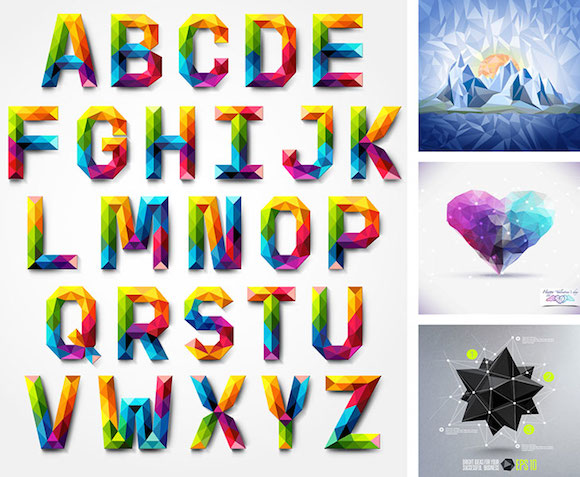 Vintage print techniques
Part of the current arts and crafts craze has to do with a growing number of illustrators mixing their tools and techniques, and adapting technologies to bring their styles onto the screen, rather than having the tools dictate what they can and can't do. One particular off-shoot of all these cross-disciplined cross-pollinations is a big trend towards graphics inspired by vintage print technology. High contrast, halftoned, wood-block or silk screen inspired slabs of color are paired with the rich textures indicative of the pre-digital print era. The imperfections of these techniques brings a hand crafted feel to these styles.
—