LEGO's 'Imagine' campaign
AUTHOR: Desktop

Published: March 20, 2012
LEGO has called on the 'skills' of 1990s TV nerds to decipher the figures in its latest minimalist print campaign 'Imagine'.
Created by Hamburg-based creative agency, Jung von Matt, the clever minimalist print series features basic shapes made from LEGO which each represent a popular cartoon character, recognisable through height and colour of the bricks (e.g. Marge's tall blue hair is a dead giveaway).
Test your TV skills – see if you can guess the characters in each advert (the answers are listed at the end of the article).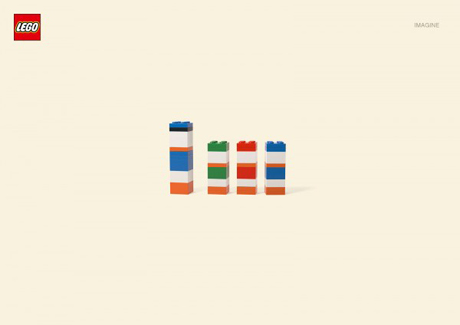 Answers from top to bottom: Smurfs, Donald Duck, Ninja Turtles, Bert and Ernie, Asterix and Obelix, The Simpsons.
Via DesignTaxi.